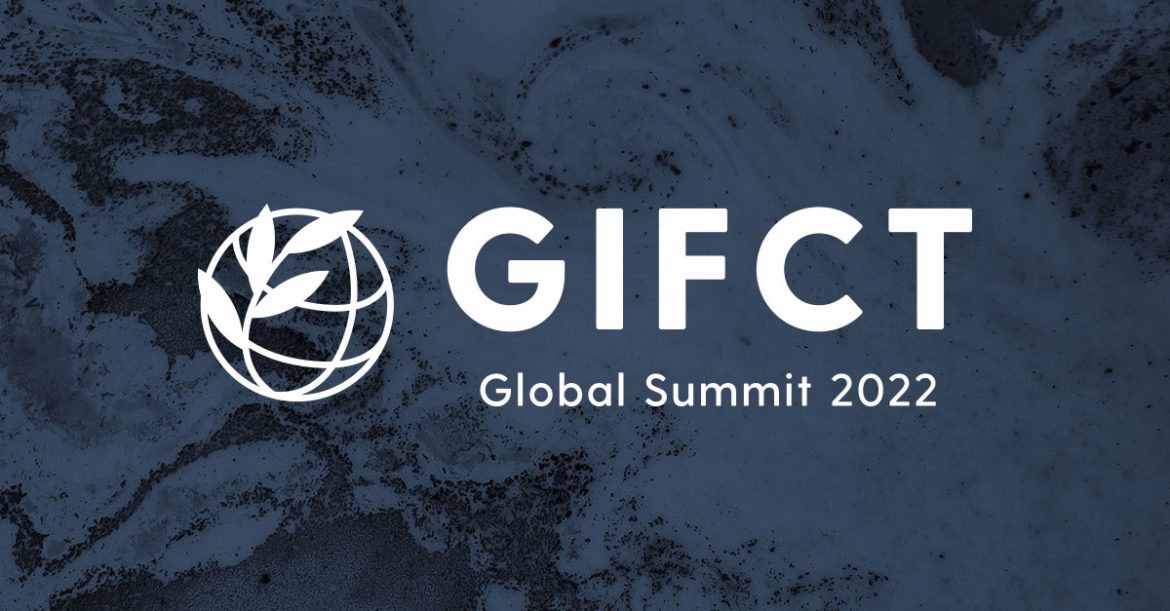 GIFCT Annual Global Summit: Delivering Needed Resources and Progress to Prevent Terrorist and Violent Extremist Exploitation of Digital Platforms
The Global Internet Forum to Counter Terrorism (GIFCT) today convenes its annual Global Summit and marks two years operating as an independent non-profit organization with a mission to prevent terrorist and violent extremist exploitation of digital platforms. Bringing together its 18 member companies, and Independent Advisory Committee (IAC) with partners and global stakeholders from government, civil society, and academia, GIFCT presents the latest progress on delivering critical resources and technical solutions to our dedicated technology company members and stakeholders, and sets the stage for the year ahead.
Providing Tech Companies with Needed Guidance and Resources: Definitions and Principles Framework
Without a universally accepted definition of terrorism or violent extremism, tech companies have made clear their pressing need for greater guidance from governments and global experts on how best to define and identify terrorism and violent extremism in their individual policies – and how they can navigate the designation lists governments develop. Today, GIFCT's independent team of experts works to meet this need and publishes a Definitions and Principles Framework for Terrorism and Violent Extremism.
This framework provides guidance, key principles, and the latest research for tech companies to use as they develop and enforce their policies that define and prohibit terrorist and violent extremist activity on their platforms amidst a fast-moving and adversarial threat landscape. For tech companies, these resources are the latest step GIFCT takes to support and strengthen their work and advance GIFCT's mission. For stakeholders from government and civil society, these resources provide a guide for making crucial information more widely accessible and usable.
GIFCT has taken a three-fold approach to providing definitional resources and guidance:
Providing a global understanding of the behaviors and conduct that go into definitions of terrorism and violent extremism from 64 national and intergovernmental bodies: Understanding that tech companies often face challenges determining how to enforce their policies on content and activity from online users that lack formal affiliation with a designated terrorist group, providing these elements helps companies develop and refine policies and definitions based on behavior towards violence. Supported by GIFCT's Human Rights Impact Assessment, focusing on behavior rather than ideology strengthens the ability to identify terrorist and violent extremist activity and avoids risks of ideological bias that could lead to over-enforcing on activity tied to some ideologies and under-enforcing on others.
Thematically bundling and organizing more than 340 research insights in useful ways to trust and safety teams: As tech companies know all too well, a policy is only as effective as its enforcement. Now organized and categorized by world regions, major recent events, violent ideologies and conspiracy theories, types of technological exploitation, and types of digital platforms and online products, GIFCT makes a high volume of actionable research from our academic partner, the Global Network on Extremism and Technology (GNET), more useful to tech companies. GNET began producing insights across these topics in December 2019, making them available to tech companies and the broader public. Now, these insights are provided to tech companies in formats and context most useful to how and when they'll need to be referenced. As a result, these insights put in context the 20 behavioral elements distilled from definitions of terrorism and violent extremism and illustrate the scale and other realities tech companies face enforcing their policies and terms of service and effectively countering the latest attempts to exploit their platforms.
Identifying risks and mitigation strategies from 15 case studies of how governments enforce definitions of terrorism and violent extremism with designation lists, providing guidance and high-level tactics when navigating these lists and upholding human rights: As tech companies are often faced with pressures to follow government designation lists without a roadmap for what online enforcement should look like, this resource compiles expert reviews and case studies of government efforts, and intergovernmental agreements, to enforce definitions of terrorism and their impacts on human rights.
In developing this framework, GIFCT gathered input from our tech company members, our IAC, and other stakeholders. We look forward to gaining additional feedback and continuing to grow and enhance this resource for our members.
Making Progress through Multistakeholderism a Reality: GIFCT Working Groups
Countering terrorism and violent extremism requires a whole-of-society approach, and the outputs from GIFCT's Year 2 Working Groups demonstrate both the critical need and effectiveness of multistakeholderism in this work. 178 participants from 35 countries across six continents joined five GIFCT Working Groups this year to focus on critical themes related to countering terrorism and violent extremism online.
Today, GIFCT publishes 13 outputs to help us understand the human rights impacts of crisis response protocols; keep researchers and activists safe in the counter-extremism space; identify and map legislation impacting how tech companies address terrorist and violent extremist content online; provide frameworks for meaningful transparency in tech; and better understand the relationship and risk mitigation strategies between content-sharing algorithms and extremism. We are grateful to the experts and practitioners who contributed these outputs to GIFCT and our stakeholder community.
Strengthening Tech's Response to Terrorist and Mass Violent Attacks
Since first developing our Incident Response Framework following the March 2019 attacks in Christchurch, New Zealand, GIFCT has initiated communications with members in response to over 270 offline terrorist or mass violence events, in 41 countries across six continents, sharing situational awareness and information as quickly as possible to identify any online dimension to the offline violence. As a result, GIFCT has activated the Content Incident Protocol level of our Framework three times in response to the perpetrators of a mass violent attack livestreaming their violence: in October 2019 in response to the attack in Halle, Germany, in May 2020 in response to the attack in Glendale, Arizona, and, most recently, in response to the attack in Buffalo, New York, in May 2022. GIFCT has activated the Content Incident level of our Framework once in response to the perpetrators creating and editing content from their violent attack in Udaipur, India, and sharing it online shortly after.
A critical function for GIFCT is to continue improving the capacity of our member companies to respond to a threat that is both significantly rare and high in risk. The two most recent activations of the CIP took place two years apart, but the attacks and their ensuant perpetrator-produced, livestreamed content were horrific and required a robust and collective response.
With a clear-eyed understanding of this dynamic, GIFCT focuses on the continual work to expand our situational awareness capacity, test our protocols with our members, and identify where we can strengthen our collective response so that when we are responding to online content produced by the perpetrators of an attack, GIFCT and our member companies are positioned to respond quickly and effectively.
Just in the first half of 2022, we've conducted two tabletop exercises: first to understand how an attack and our response impacts the human rights of online users, victims, and others, and second to evaluate the current state of our centralized communications mechanism with our members. As a result of what we learned – in response to violent events and through these exercises – we are now developing methods for measuring the impact of our response, improving the efficiency and readiness of our response, fine-tuning how we manage various stakeholders and emergency contacts during an incident, and improving methods to track and manage key information during our response.
An Update on Expanding the Taxonomy for Terrorist Content Online
As announced at the 2021 Global Summit – and based on input from GIFCT member companies, our IAC, and global experts – we will soon include hashes of attacker manifestos in PDF form, branded terrorist and violent extremist content and publications in PDF form, and hashes from Tech Against Terrorism of URLs from the Terrorist Content Analytics Platform (TCAP) in GIFCT's hash-sharing database. Now, GIFCT's Technology Team has developed and begun to operationalize the technical capability to hash URLs and PDFs, expanding the database's current technical capacity beyond image and video hashing. Later this year, we will provide additional updates and further transparency on the implementation of these expansions.
Human-Rights Based Approach to Countering Terrorism
One year after the foundational Human Rights Impact Assessment of GIFCT, commissioned by BSR, we have further embedded our commitment to upholding human rights and fundamental freedoms and pursuing the assessment's recommendations while advancing our counterterrorism mission.
This commitment starts at the top of our organizational structure. In line with the assessment's recommendations for governance and accountability, our Operating Board and IAC have begun implementing a system for the IAC to provide formal recommendations on our work. The IAC now receives routine updates from GIFCT on progress and areas for input and feedback on priority workstreams, and meeting minutes from the Operating Board from their quarterly meetings with GIFCT.  We look forward to the IAC's annual report, regular input, and vital perspective on GIFCT's progress to date and future priorities and planning.
Crucial to GIFCT's commitment to human rights is how we support our members fulfilling that same commitment. Building on last year's enhancements to GIFCT's membership criteria, we've now expanded our mentorship program with our partner Tech Against Terrorism, providing greater support to tech companies not just when they seek to join GIFCT, but as current members advancing our counterterrorism mission and upholding human rights.
This Week
GIFCTs 2022 Global Summit marks the first time we convene our members, our Independent Advisory Committee, and partners in-person and we look forward to making today's conversations meaningful to those joining us in California, as well as attending virtually. We are grateful to the experts and practitioners participating in discussions about the current online threat landscape, crisis response protocols, advancing our collective understanding of factors contributing to radicalization, tech transparency, and countering terrorism and violent extremism across the internet.
Tune in here: GIFCT 2022 Global Summit Livestream
Agenda: GIFCT 2022 Global Summit Agenda